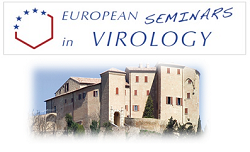 Dear colleagues,
we are pleased to announce the 8th European Seminar in Virology (EuSeV) that will focus on Intrinsic, Innate and Adaptive Immunity to Viral Infections and will take place at the University of Bologna Residential Center in Bertinoro, Italy, October 16-18, 2020.
The exciting program includes both well-known and emerging viruses (also the newly emerging SARS-CoV-2) with eminent state-of-the art speakers. The topics will cover: intrinsic restriction factors to HIV and herpesviruses, including CMV; cGAS, STING and SAMHD1 resistance hubs; NK cells; trained innate immunity; mucosal immunity; broadly neutralizing antibodies to key viral agents (Flu, RSV, etc), viral platforms as antiviral vaccine vectors, and vaccine development against emerging viruses including SARS-CoV-2.
Further information will follow in due time.
We look forward to seeing you in Bertinoro
Gabriella Campadelli-Fiume, Michael Kann, Thomas Mertens, Thomas Stamminger, Dana Wolf
Organizers of the 8th EuSeV on behalf of the European Society for VIROLOGY